Copenhagen-based Austrian-German conductor and composer Kai Johannes Polzhofer was already selected for masterclasses with Daniele Gatti, Jorma Panula, Paavo and Neeme Järvi even before taking up his studies in conducting. Finalist of Only Stage Conducting Competition 2022, and Semi-finalist of Kussewitzky Conducting Competition 2021, he studied orchestra and operatic conducting at the prestigious Rimsky-Korsakov State Conservatory Saint Petersburg (Alexander Vasilievich Alexeev †), with Leonid Grin, and has been recently selected for the National Danish Soloist Program in Orchestra Conducting (under the guidance of Per-Otto Johansson and Michael Schønwandt). His music has been internationally broadcast (Austrian Broadcast Ö1, Bavarian Broadcast BR Klassik, Estonian National Radio, Radio Russia), and he worked with leading ensembles of the contemporary music scene such as Grammy Award-winning Parker Quartet, Ensemble Recherche, and the JACK Quartet, the "nation's most important quartet" (The New York Times). As a conductor he worked among others with soloists of the Mariinsky Theatre Petersburg, members of Deutsche Oper Berlin and Gustav Mahler Youth Orchestra, the Symphony Orchestra of the Rimsky-Korsakov St. Petersburg Opera and Ballet Theatre, as well the Århus Symphony Orchestra, South Denmark Philharmonic, Copenhagen Philharmonic Orchestra, and Aalborg Symphony Orchestra. Among others he assisted conductors Ilan Volkov, Leonid Grin, Thomas Søndergård, and in 2015 he re-arranged and conducted the premiere of Alban Berg's last until then not performed work (Symphony Fragment from 1913) in Boston, which he published with Edition Gravis.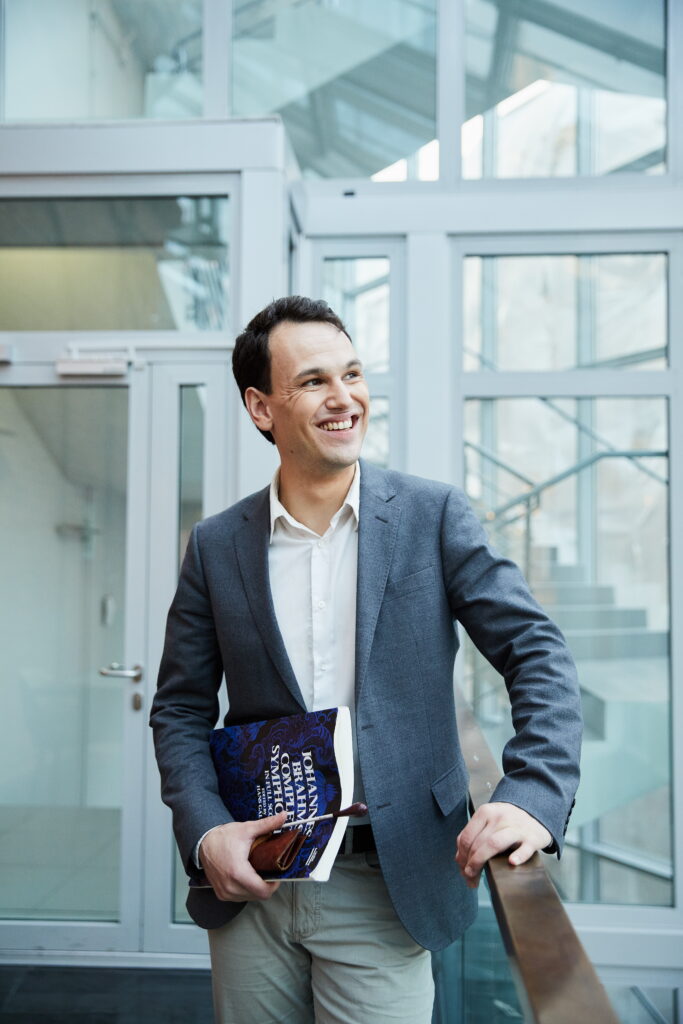 Mr. Polzhofer is inspired by bringing music and philosophy together. He not only graduated with honors both in composition and philosophy from University Leipzig and Musikhochschule Felix Mendelssohn Bartholdy Leipzig, but regularly publishes articles in these fields, and released in 2016 the book "Perspectives for Contemporary Music in the 21st Century". Further he taught at the Music Department of Harvard University, and worked as lecturer at the philosophy department of University Leipzig. In addition he has been awarded with the "Certificate of Distinction in Teaching" at Harvard University. As a composer his principal teachers are Chaya Czernowin, Steven Takasugi, Claus-Steffen Mahnkopf, and Klaus Lang.
Active in understanding music as a key to support change in society, Mr. Polzhofer has been throughout the years active in initiating new cultural platforms. Together with Karen Cueva he is co-founder, former Music Director, and current advisory board member of the Du Bois Orchestra at Harvard (fighting discrimination of race and gender through classical music), initiator and artistic advisor of forma Leipzig (fostering dialogue between contemporary music and literature), and most recently artistic director of the Kandinsky Orchestra Petersburg (introducing marginalized repertoire to Russia and cooperating with the local contemporary dance scene).
Among others Kai Johannes Polzhofer received a National Stipend in Germany (Deutschlandstipendium), and was awarded a full scholarship from Harvard University allowing him to obtain a Doctorate in Composition. He is supported by the Monsignore Fellerer Arts Foundation as well the Stiftunglife Foundation. Since 2013 his compositions are published by Edition Gravis (Berlin).